Chairman's Statement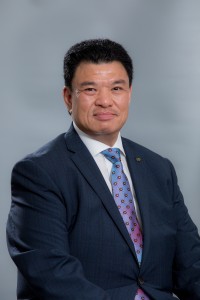 Thankful to the trust and unfailing support of members, I am very honour to continue serving the industry as the Chairman of FHKI Group 32 Hong Kong Automation Technology Council in 2017-19.
Since its inception in 2015, the Council has been committed to promoting Industry 4.0. Through assorted technologies, including but not limited to automation equipment, Internet of Things and 3D printing, manufacturers can effectively improve production quality and efficiency. Products can therefore swiftly meet the needs of market. The Council upholds its aim to facilitate intelligent automation by providing apposite information to the manufacturing industry. We strive to devote more effort for having more Hong Kong enterprises to become a flexible, effective and world-class Smart Factory.
Industry 4.0 represents not only to automate the production process, but also to integrate innovative technology into existing wisdom under the concept of "Human Factor Engineering". It connects and consolidates the processes from manufacturing technology, distribution channels to consumption experience, bringing a robust "Smart Factory". This intelligent model can enhance cost-effectiveness as well as value-add the upstream and downstream business partners with better after-sales service. Through the use of Internet of Things technology and Cyber-Physical Systems, big data can be collected and analysed to formulate more perfect strategies, hence, every units in the supply chain can meet customer needs more accurately.
Nevertheless, in order to deeply integrate production automation, digitalisation and internetisation, basic production management system and enterprise resource planning are crucial for exercising "Lean Production". Enterprise can transform by step-to-step automation upon its own features. Training of talents and creating the culture of intelligent production are equally important for technology upgrade, ultimately realising "Human" and "Machine" collaboration.
At present, most factories in the Mainland are adopting Industry 2.0 or 3.0 only. There is still room for achieving Industry 4.0 to enjoy its benefits. Practitioners are no exception to get the know-how about a real Industry 4.0. From September to October in 2017, the Federation of Hong Kong Industries conducted a survey among the members upon their investment on research and development. According to the survey, approximately 90 per cent of the enterprises indicated the need of introducing Internet of Things and production automation technologies, implying that they have recognised its importance. However, only about 20% of the total respondents have applied Internet of Things and only half of the respondents implemented industrial automation.
In order to meet the needs for industrial automation, the Council has organised a series of training courses, conferences, exhibitions and factory visits. We invited experts specialised in automation facilities, management system, Internet of Things, and so on to share latest technology and information. Through these platforms, we proactively connected different industries to understand the automation solutions. In the future, we hope to broaden our network through organising more variety of illuminating activities and inviting more well-known corporations to share their experiences. At the same time, we will actively collaborate with the Hong Kong Productivity Council, the Hong Kong Science and Technology Parks Corporation and the tertiary institutions in Hong Kong and the Mainland for organising events and exchanging views.
I would like to take this opportunity to extend my sincere gratitude to the members of the executive committee for all the effort and hard works. With their expertise in manufacturing and automation, valuable experience and interpersonal network, the Council has been vitalised. We all look forward to working together with all trades and industries to promote the Industry 4.0 and to bring about a more positive and enterprising atmosphere for Hong Kong's manufacturing industry.
Robert Lai
Chairman
Hong Kong Automation Technology Council
This post is also available in: Chinese (Traditional), Chinese (Simplified)